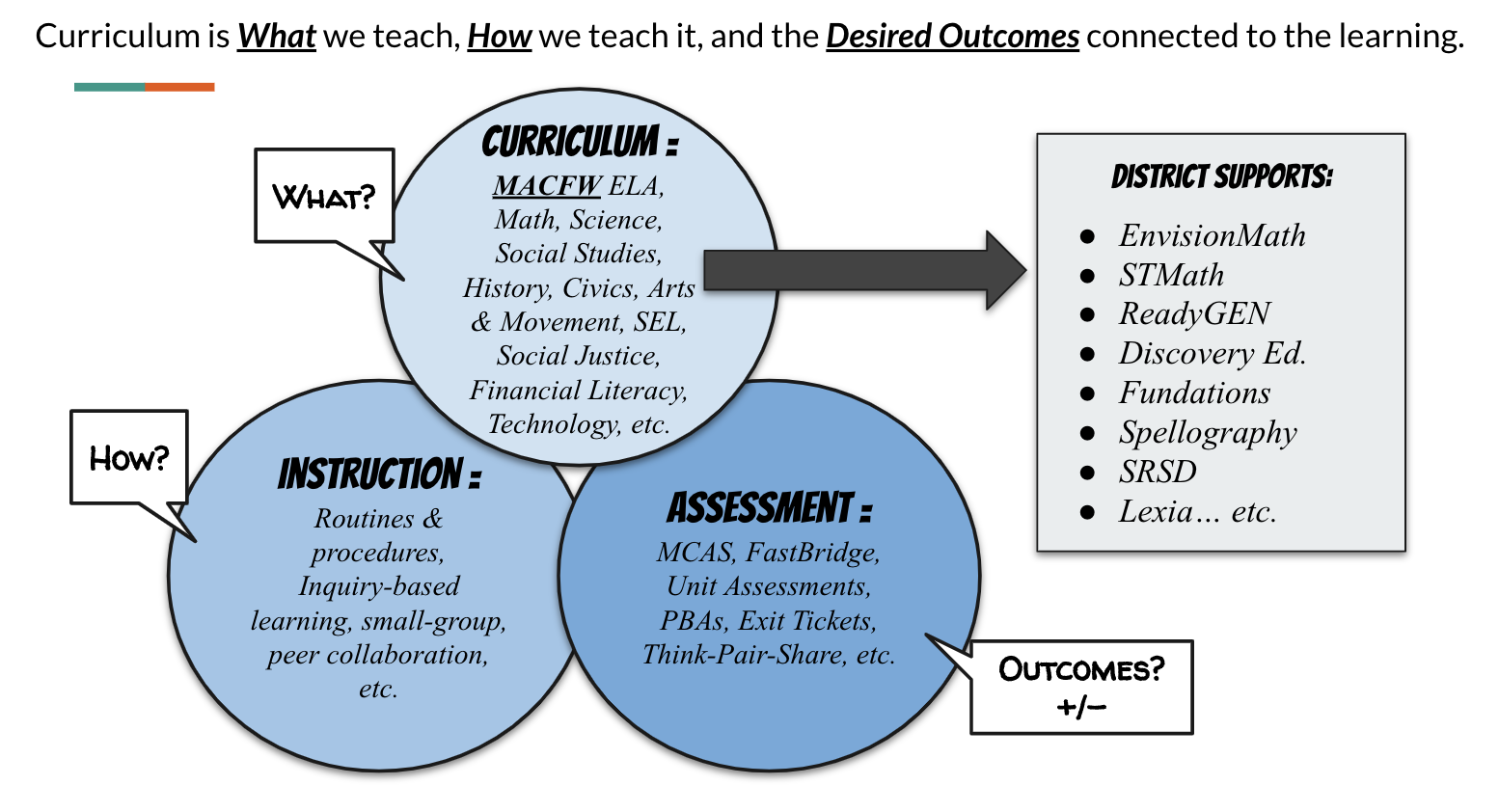 The Curriculum, Instruction and Assessment Department supports the district's educational programming through the provision of resources and opportunities for personal and professional growth. At North Adams Public Schools we believe that all of our students become college and/or career ready by being proficient in multiple academic areas as well as supported in their social/emotional and behavioral health development.
The curriculum across the core academic content areas are aligned to the most current Massachusetts Frameworks issued through the Department of Elementary and Secondary Education (Link to State Curriculum). Resources and materials are under yearly committee examination for alignment to student learning expectations.
The Curriculum, Instruction and Assessment Department includes resources for learning across a continuum of services including Literacy/Title I, English Language acquisition and development, instructional technology, Teach to Learn science for grades K-5, 21st Century Out-of-School programs, professional development and mentoring, grant acquisition and management in support of student development, and data/assessment resources for teaching and learning.
Staff in the Curriculum, Instruction and Assessment Department also maintain student and educator data in support of academic, social/emotional and behavioral health development. The staff is responsible for federal and state reporting, local data management, analysis and displays, and maintaining connections between data source providers and classrooms. The Department provides services to administration and teachers throughout the district that assist with the continuous improvement of schools, programs, resources, and individual practice.
STAFF
Kimberlee Chappell, Title I/Literacy Coordinators

Kimberly Roberts-Morandi, Director of Curriculum, Instruction, and Assessment

Diane Ryczek, Coordinator of Teacher Mentoring & Assistive Technology 413-776-1458

Bobbi Tassone, Curriculum, Instruction and Assessment Office Assistant

Linda Tatro, Data & Evaluation Specialist

Elizabeth Whitman, English Language Learner Teacher.